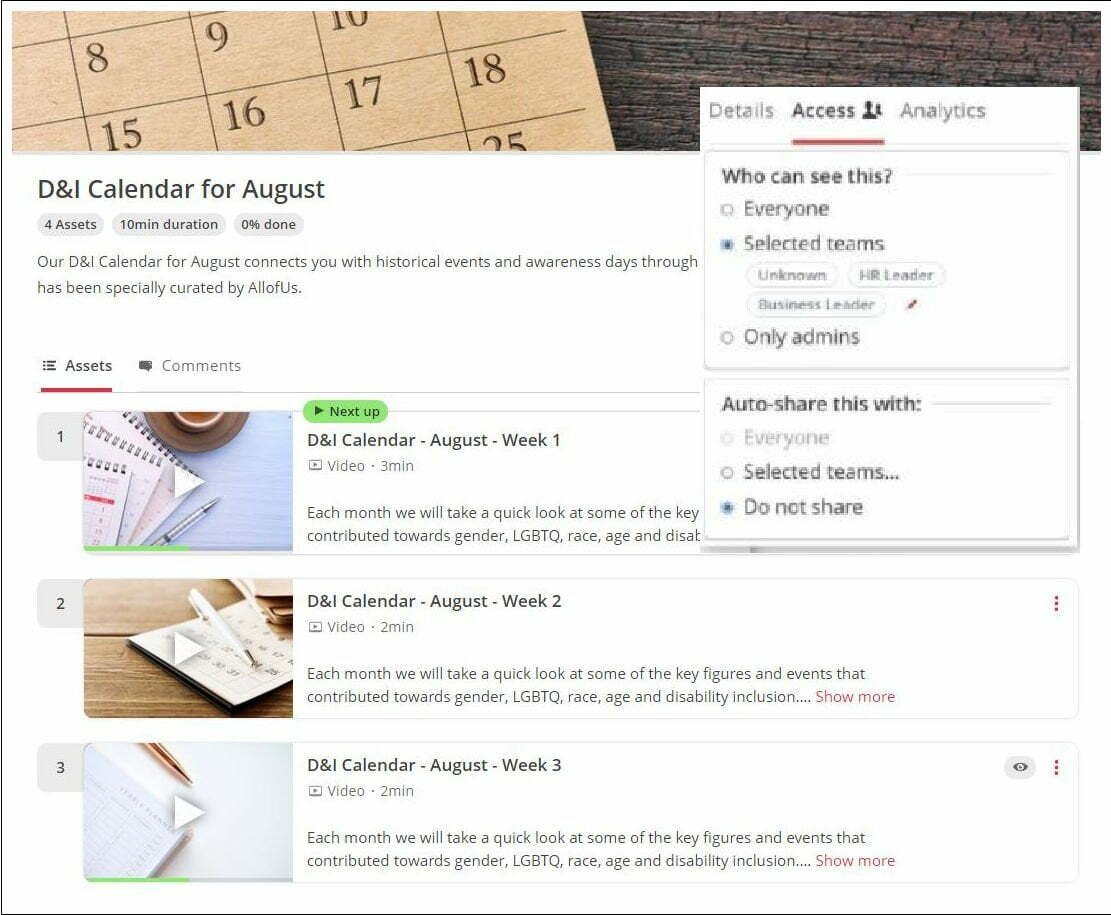 The D&I Engagement Hub consists of topical and continually refreshed D&I content and learning resources, available on the 5App digital platform.
It is designed to underpin company EDI strategy, driving user engagement by surfacing relatable current issues, important calendar events, learning resources and desired behaviours and enabling companies to demonstrate their long-term commitment to EDI values and culture with a rapidly implemented 'out of the box' solution.
It is quick to set up and launch and users need no training to get going.
Analytics and Insights
Targeting content for an audience ensures it is easy to discover and automated follow ups or nudges help drive awareness and engagement with available learning resources.

Comprehensive analytics, including user demographics and behavioural trends, give you the insights to demonstrate your commitment to stakeholders and understand engagement around important topics.

5App is partnering with diversity and inclusion experts All of Us.

All of Us provides D&I content with highly engaging multimedia learning resources that create, measure and manage positive change at work.

Find out more about our partnership with All of Us here
Case Study: Spirit Energy
Spirit Energy came to 5App for standalone soft skills content and soon realised that it could gain so much more by implementing the Hub. What followed was SHIELD – the Spirit Hub for Improvement, Education, Learning and Development.
Internal employee influencers, Free Spirits, who ran internal networks such as the LGBTQ+ network were heavily involved, creating and sharing playlists for their communities.
The Hub's metrics show that user engagement levels have been really strong and that SHIELD has really helped build an inclusive culture, making all employees feel that they belong.
It even came in ahead of leading through change and digital transformation, which is quite something given that the report was produced in the middle of a pandemic.
There's a lot of activity around D&I, but how effective is your average diversity and inclusion strategy?